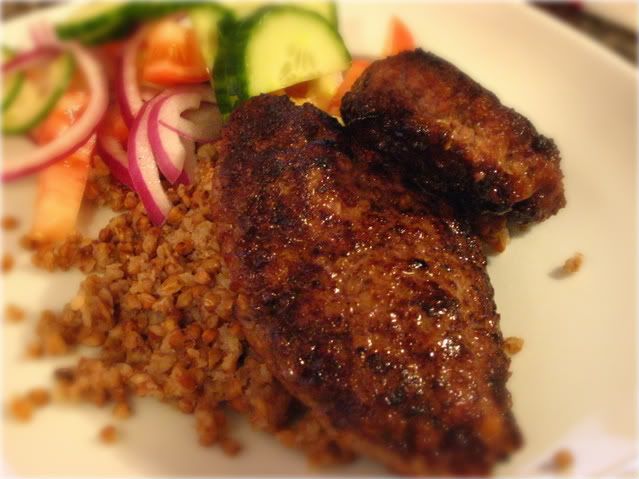 This ladies and gentleman I present to you is the Russian meatloaf...or maybe the Russian "mama-burger"...OK what it really is, is ground meat combined with onions and seasoning, fried to perfection to create little patties of goodness. Moist and delicious, this recipe definitely takes me back to eating at my paternal grandmother's house as a kid. There, no ounce of fat was spared. My grandmother would fry them in butter and sunflower oil, until they were perfectly brown and delicious. My mother on the other hand, used ground chicken or turkey instead of beef and fried them in as little sunflower oil as possible. I grew up and I made them the way my mother used to because that's the only way I knew how. Don't get me wrong they were delicious, just not traditional. I wouldn't dare try anyone else's "kotleti" because they weren't my mom's. That is until last year. My best friend, Marina, calls me up and tells me that her mother-in-law Vera, taught her how to make perfect "kotleti". She says,
"You know Mila, real "kotleti" not the kind you make."
Naturally, I had to try these, she down right offended me!
I did try them and they were AMAZING! Just like babushka (grandma) used to make! Fattening little suckers they are, but hey just one won't hurt.
This is the only recipe I ever use to make "kotleti" (thanks Vera!) I just try and pair it up with something healthy and eat just one (sometimes). The only thing I did change was that I finish them up in the oven instead of frying them on the pan the entire time. It saves me time and lightens up the fat. This time, I served it up a nice healthy side of buckwheat, a Russian staple, and a light salad of tomato, cucumber and red onion. Enjoy!
Kotleti
5 pounds of ground beef (I used 85% lean and they turned out great)
2 onions, pureed in a food processor until finely minced
3 pieces of bread, soaked in water
1 egg
salt and pepper to taste
1. Combine all ingredients well by hand. Make sure you squeeze out the water from the bread so that your force meat won't be soggy.
2. Form little oval patties with your hands. Try not to work them too much, you want them to remain nice and fluffy.
3. Fry them up on each side until they are a nice golden brown. Lay them out on paper towels to suck up the oil a bit.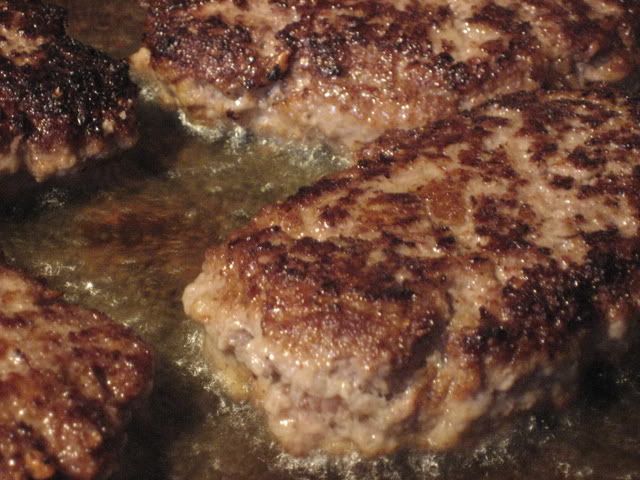 4. Pour all the oil out of the pan and finish them up in a 500 degree oven for about 5-7 minutes, until juices run clear.
Enjoy!