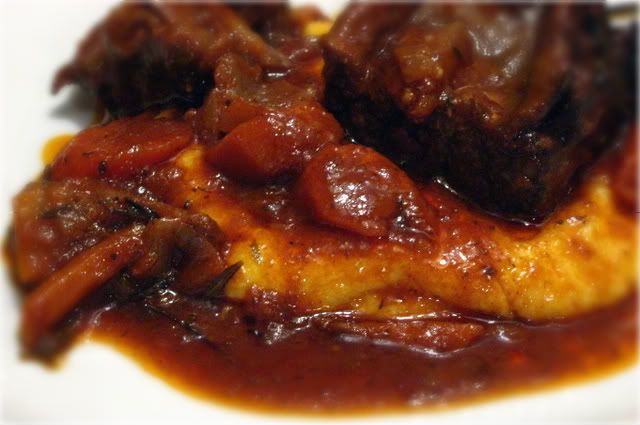 As a culinary student majority of my education was based on French cuisine, food history and techniques. I fell in love with French food the first time that I made Tomato Concasse. Literally it means the process of removing the skin and seeds off of a tomato, we then turned it into a delicate tomato sauce with shallots, garlic and wine. The smell of butter and shallots quickly became my favorite smell in the world. And so my love with French food continued. For me the simpler the dish, the better. I fell in love with delicious roasts, simple stews and creamy soups. My French chef's always cooked with such emotion and love that it was contagious. They taught us everything from Duck Confit (duck slowly cooked in its own fat for a long period of time) to Pomme Frittes (delicious, delicate little shoestring fries). Figure friendly it was not, but hey I was in culinary school, I needed to taste and savour every bite!
The best French food funny enough, was originally peasant food. For instance, seafood was peasant food at one time. People tried to use what was fresh and available to them and especially in the region of Provence, seafood was readily available. Most of the time peasants did not get the favorable part of an animal and so they had to figure out ways to enjoy it and make it taste really good. Alas, short ribs enter the picture. At one point short ribs were so cheap butchers could not give them away! Even as recent as the early 1990's, no body wanted short ribs. They wanted filet Mignon, NY Strip, rib eye, but who would want short ribs. There were very few who understood the short rib...who would want a pathetic looking rib with a little bit of meat on it and tough meat at that? Well, what most people did not understand was that when you cook the meat for a long period of time that meat becomes tender and succulent. For home cooks it was too daunting and restaurant owners were not sure if their clientele was ready for this. It was not until the early 90's that a restaurant in New York started making braised short ribs and the prices for short ribs sky rocketed.
My short ribs were a combination of simple and bold flavors. I wanted to pair it with something that could absorb the sauce and polenta proved to be perfect for it. Believe it or not, polenta is actually eaten in Provence as well due to the proximity to Italy right across the Mediterranean.
So turn on some French music pour yourself a glass of Bourdeaux and enjoy.
Braised Short Ribs with Creamy Parmesan Polenta
3 Pounds of Beef Short Ribs
3 Stalks of Celery, cut into large chunks
4 Carrots, peeled and cut into large chunks
2 Large Onions, cut into large chunks
1 Whole Garlic Head, with the top removed
4 Sprigs of Rosemary
4 Sprigs of Thyme
Handful of Parsley Stems
1 Bay Leaf
2 Cups of Good Red Wine
1 Cup of Chicken Broth/Stock (if you have beef broth, go ahead and use it)
1 28 Oz Can of Tomato Puree
Salt and Pepper
Olive Oil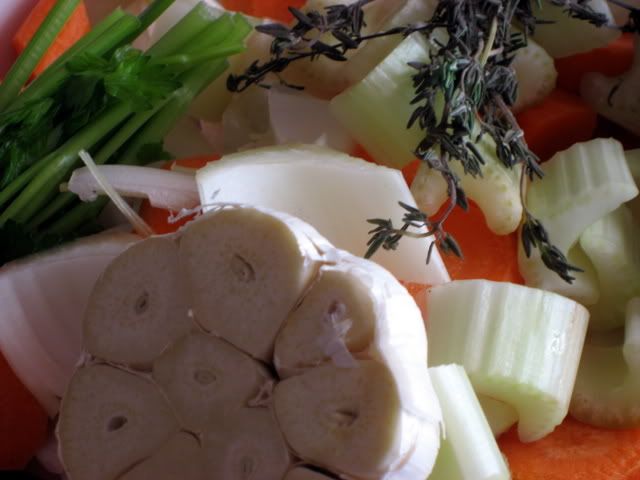 1. In a heavy pan, heat olive oil until it smokes.
2. Season short ribs generously with salt and pepper and gently add to the hot oil. Continue cooking until nicely browned on each side.
*Please make sure that you take the time to do this and do not overcrowd the pan. The flavor will come from the caramalization of the meat.*
3. Remove the short ribs and lower the heat to medium. Add in all your vegetables.
4. Sautee until softened and slightly browned, about 10 minutes.
5. Turn up the heat and add in your wine. Carefully scrape the bottom of the pan making sure you pick up all the browned bits on the bottom. Let reduce by half.
6. Turn off the heat and place your short ribs in your crockpot. Add in your vegetables and wine on top. Cover with chicken or beef stock until fully submerged. Turn the crockpot on high and cook covered, for 3-4 hours until meat is tender and pulls away from the bone.
*If you are not doing this in a crockpot, you can do the same steps and finish it in the oven at 300 degrees for about 3-4 hours or until the meat is tender enough.*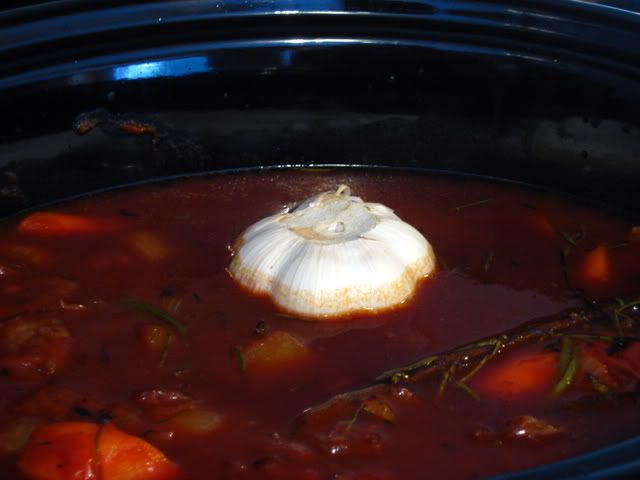 7. Once you the meat is done, remove the meat and reduce the sauce until flavor concentrates a bit. Making sure to season as necessary. Skim the fat off the top and serve!
Creamy Parmesan Polenta
1 Cup of Instant Polenta
3 Cups of Chicken Stock
1/4 Cup of Parmesan Cheese
1/2 Cup of Half and Half
1. Let the chicken stock come to a boil.
2. Add in the polenta and stir with a wooden spoon until there are no lumps, about 5 minutes.
3. Add in parmesan cheese and half and hlaf. Stir to combine and serve.