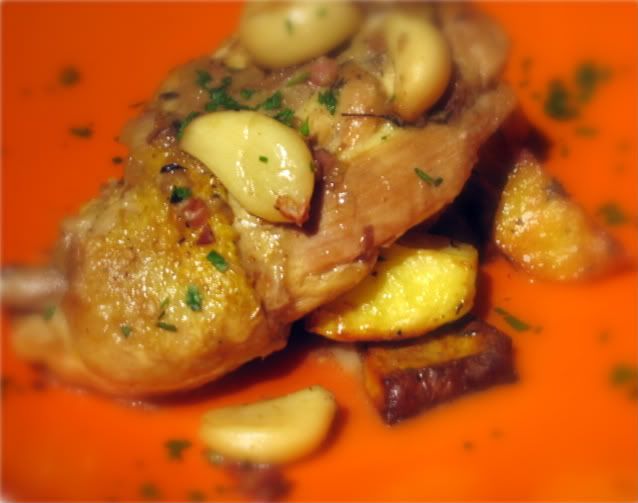 Chicken, in my opinion, is probably the easiest to cook...and can also be the blandest. I wanted to make a very flavorful chicken with simple ingredients. I made a similar version to this dish once in culinary school and it was so perfect. I have been doing different variations of this dish ever since, this recipe is by far my favorite so far. Some shallots, pancetta and a whole lot of garlic make this dish absolutely irresistible!
The potatos were super simple. I cut up a bunch of Yukon Golds and roasted them with olive oil, fresh thyme, salt and pepper. Easy and perfect!
1 Whole Fryer Chicken Cut Up
2 Shallots, Diced
4 Oz Pancetta, Diced (You can use regular bacon, but I had Pancetta in the house)
4 Sprigs of Thyme
20 Cloves of Garlic
1 Cup of White Wine
1 Cup of Chicken Stock (or enough to cover the chicken 1/2 way up)
Olive Oil
Salt and Pepper to Season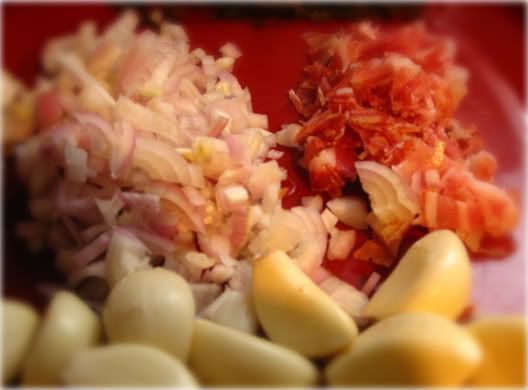 1. Heat a heavy bottom pan to smoking point with the olive oil in it.
2. Season chicken heavily with salt and pepper.
3. Add to pan, skin side down and brown on each side. Make sure you get a nice crust on the chicken. It will add a lot of flavor to the sauce.
4. Remove the chicken from the pan and lower the heat to medium.
5. Sweat the shallots, pancetta, thyme and garlic together. The pancetta should begin to brown nicely. Season with salt and pepper.
6. Pour in the wine and scrape the bottom well to pick up all the brown bits. Let the wine reduce by half.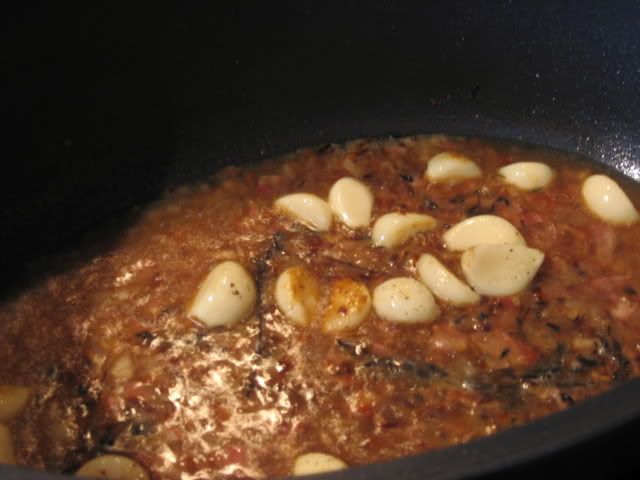 7. Add in your chicken and pour in chicken stock. Making sure your chicken is covered half-way up.
8. Continue cooking this on low, just barely simmering for 45 minutes. Make sure to turn the chicken over half way through.
9. Once the chicken is done, remove it from the pan. Boil the sauce and reduce to a thicker consistency. Tasts for seasoning and pour over chicken.