Who knew that a bunch of onions and a little broth could make such a wonderful and filling soup? Apparently the French did! Legend has it that King Louis XV created the recipe one night when he had nothing but onions, Champagne and broth in his fridge. Or so the story goes, royalty always wants to take the credit for one thing or another. Whether this story is true or not, the reality is people were poor and onions were plentiful. Soups were easy, cost effective and warm, both to the body and to the soul. It was the natural route to take.
I have played with many recipes for this soup, changing ingredients here or there. However, there is only one key element to this soup: the onions. The flavor of this soup comes mostly from how well you caramelize the onions. Caramelizing onions is a very slow and delicate process. It takes time and love but it is well worth the process. This was the first time that I used sweet onions instead of regular onions and I really found that the soup had a lot more flavor.
I opted to do a separate piece of whole grain toast with a bit of Parmesan cheese on it, instead of doing a crouton inside the soup. This way I can dip!
French Onion Soup
*Here is a huge hint for this soup. Stick your onions in the freezer for about an hour before making this soup. The cold will slow down the chemical reaction of the sulfuric acid and you will not shed one tear!*
4 Sweet Onions, Thinly Sliced
2 Cloves of Garlic, Finely Minced
3 Sprigs of Thyme, Removed From Stem
1/2 Cup Cognac
1/4 Cup Sherry
5 Cups of Beef Broth
Salt and Pepper to Taste
Olive Oil for Cooking
2 Slices of Gruyere Cheese
1. Pour oil in a large pot and turn to medium heat. (I prefer to saute the onions in a large saute pan first and transfer to my pot later. They cover more surface area that way and cook evenly and faster.)
2. Place sliced onions, garlic and thyme into pan and season with salt and pepper. You do not want them to cook too quickly. This entire process can take about 30 minutes just to get the flavor out of the onions. But I promise it will be worth it! They will be sweet and tender. Stir them about every 5 minutes to make sure that they are getting color evenly. If you see them starting to burn or get crispy, turn down the flame.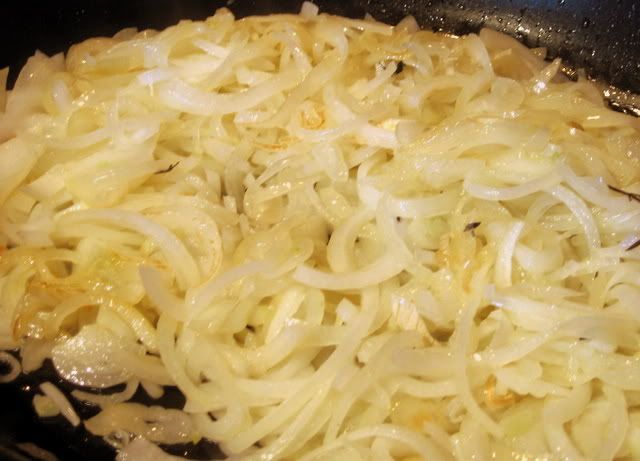 3. Once they have reached a nice medium brown color, pour in your Sherry and Cognac. This is the fun part, it will "
flambe
" but be careful. Once the flame stops add in your stock and cook slowly and gently at a low simmer. Taste your soup frequently. Sometimes it needs a bit more Cognac or Sherry to cut through the sweetness a bit. It all depends on your tastes.
4. Once the soup reaches a taste you are happy with, ladle some into an oven proof bowl or crock and top with Gruyere. Stick under broiler until cheese browns and bubbles.