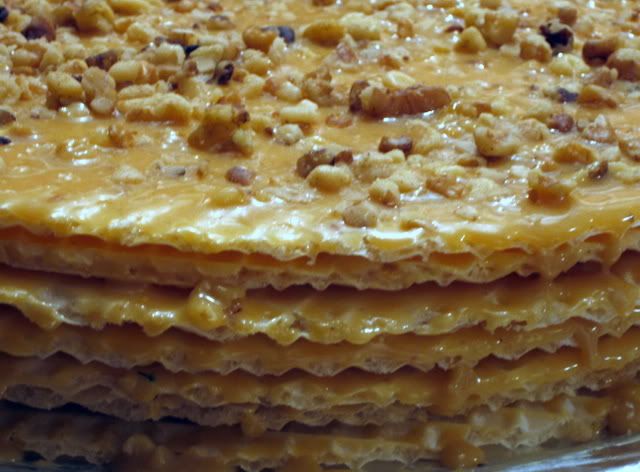 You want to talk about simplicity? This is it! This is one of my all time favorite cakes. My best friend, Marina, salivates when she hears this cake. I swear if she could, she would make the inside of her wedding cake out of this!
Delicious, doesn't begin to describe this cake! Only 5 simple ingredients are used and they create something out of this world!
One of them is wafers. Not those sad looking vanilla wafers. Think more like the wafers that you are given in church by the priest. You know that little thin cookie type thing they put on your tongue? Now imagine it a bit thicker and bigger.
If you look around your Russian or Polish deli's you will find them.
The other main ingredient is sweetened condensed milk. This alone can be a dessert for me. But you see we aren't done yet. This cake calls for the milk to be boiled while it's in the can for 3 hours. The end result is caramelized sweetened condensed milk! Basically, what the Spanish call, dulce de leche.
I promise this cake will be the easiest and most amazing treat you can make!
Waffle Torte
1 Package of Wafers
3 Cans of Sweetened Condensed Milk
1/2 a Stick of Butter, Melted
1 1/4 Cups of Walnuts, Ground
1/4 Cup of Cognac or Brandy
1. Take the labels off of the cans of condensed milk and boil completely submerged in water, for 3 hours. If water evaporates, add more to ensure that they are completely covered the whole time.
2. Cool the cans under cold, running water until they are cool to the touch.
3. Open them...CAREFULLY, there is a lot of pressure in there so just make sure you cool them, or else they will pop when opening. And trust me on this one, hot sugary, condensed milk is not pleasent on the skin.
4. Place the butter in the bowl first. Then add in your condensed milk, carefully scraping out all the goodness out of the cans.
5. Add in your cognac and 1 cup of nuts. Mix to combine.
6. Begin building your layers with the wafers. Place one wafer down on smear on about 5-6 oz of condensed milk on the wafer. Top with another and continue until complete. Sprinkle with the remaining 1/4 cup walnuts and let rest for at least 1 hour. Just enough for the filling to seep through.
My cat was a big fan of the cake!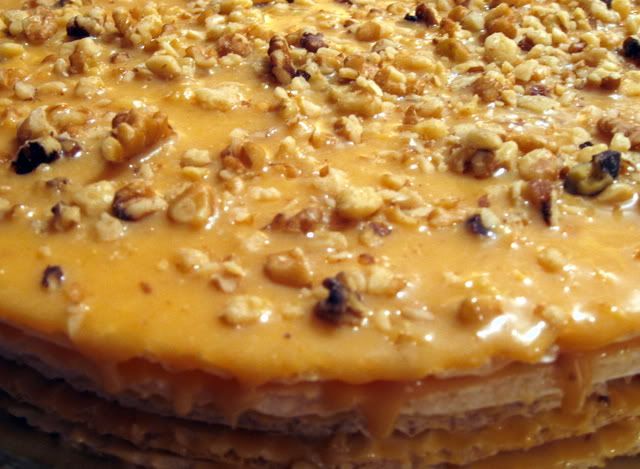 *I would love to hear everyone's feedback on this cake. For all you culinary adventurers, please try and make this and let me know what you thought!*